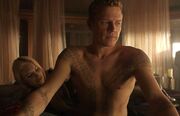 Status: Acquaintances; She wanted to use him to overthrow her brothers; Ended (She died).

This is the relationship between Uriel and Alex Lannon. Uriel was flirtatious with Alex upon their first meeting. She made Alex uncomfortable with her closeness and touchiness. She claimed to want to see the tattoos for "artistic merit" although she seemed to be interested in touching Alex as well and smiled at the realization that she was making him uncomfortable. They are not seeing interacting again, but Uriel dies before they can actually meet face to face again.
Ad blocker interference detected!
Wikia is a free-to-use site that makes money from advertising. We have a modified experience for viewers using ad blockers

Wikia is not accessible if you've made further modifications. Remove the custom ad blocker rule(s) and the page will load as expected.