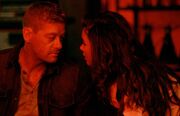 Status: Former Boyfriend/Girlfriend; They cared about each other. Made Love. Claire was his ruler and he worked for her in security. Gates sacrificed his life for her. Ended (They're both dead).

This is the romantic relationship between Claire Riesen and Gates Foley. Originally, Claire went to him for advice and she needed his help for a security issue regarding V-1 rebels in Vega. Gates was a few years older than Claire, having worked for her father when he was the ruler of Vega. They continued to interact until Gabriel sent one of his Higher Angel minions to kill Claire. They worked together to stay alive in Gates' security facility. They eventually get out alive when they create an explosion to kill the angel inside the facility. They grow closer during this event; they even shared a kiss. They continue to interact cordially because Gates doesn't want to get involved with a pregnant woman, much to Arika's annoyance, until Claire makes the first move and they make love for the first time. They both start a relationship until Alex Lannon comes back to Vega with Noma Banks. Claire is overjoyed to see Alex back while watching a live feat of an Eight-Ball attack outside the city's walls. She is immediately shocked and slightly heartbroken when she watches Alex kiss Noma after they win against the Eight-Balls. When Alex and Noma are let in to they city; Claire, Gates, Noma and Alex all have an awkward reunion.
When V-1 rebels take a nuclear power plant, the power plant threatens to leak and Gates and Alex are forced to pair together to save Vega from a nuclear leak. Gates ends up sacrificing his life to save the power plant and he makes Alex promise to take care of Vega and Claire. Claire heartbrokenly shares her last words with Gates via walky-talky before Gates fixes the issue and dies doing so. Claire immediately breaks down in tears once she realizes Gates is gone. They are currently permanently separated being Claire was killed by Duma.
Ad blocker interference detected!
Wikia is a free-to-use site that makes money from advertising. We have a modified experience for viewers using ad blockers

Wikia is not accessible if you've made further modifications. Remove the custom ad blocker rule(s) and the page will load as expected.