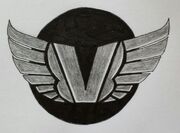 The Archangel Corps is an elite group of Special Forces established by the Archangel Michael who serve as Vega's first line of defense. The Archangel Corps units have specialized equipment including heavy body armor, ballistic shields, entry tools, armored vehicles, and advanced night vision optics. Their duties include confronting heavily armed criminals, performing hostage rescue, high risk arrests, riot control, VIP protection detail, and entering armored or barricaded buildings.
Entry into the Archangel Corp is by invitation only (hand-picked by the Archangel Michael personally), and the rigorous training involved boasts a 97% discharge rate. The select few that do earn their wings are revered by both the military and civilian population as the best of the best.
Soldiers in the Archangel Corps are required to wear an all blue suit comprised of a darker blue bullet-proof vest. Soldiers also are required to carry around a sword that identifies them with the Archangel Corps. Soldiers also carry firearms with them. Firearms range from fully automatic handguns to machine guns.
Ad blocker interference detected!
Wikia is a free-to-use site that makes money from advertising. We have a modified experience for viewers using ad blockers

Wikia is not accessible if you've made further modifications. Remove the custom ad blocker rule(s) and the page will load as expected.